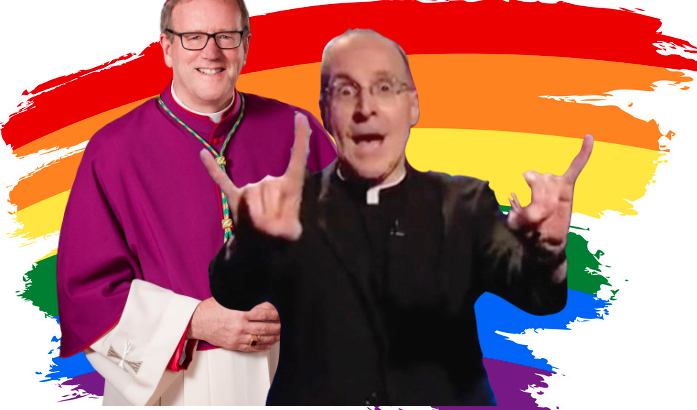 Bishop Robert Barron's Support of "Fr" James Martin and Their Promotion and Celebration of Sin
January 27, 2022
FIRST CANCELED PRIESTS, NOW A CANCELED BISHOP
March 16, 2022
Take a good look at this man. I would especially encourage bishops and priests to take a good look. When Pope Francis spoke heresy, this lone man mustered courage the likes of St. Nicholas of Myra and called the out the Holy Father. He was swiftly removed from the audience hall and Bergoglio accused him of being spiritually or mentally unstable – you know, the label he gives to everybody who disagrees with his agenda.
What prompted this man to get so angry, you ask? During this particular audience, the Holy Father said that the blasphemous are counted among the communion of the saints. Wishful thinking, perhaps?
The action of this man is an example of true strength. I repeat: bishops and clergy should take note, because it seems lately an unfortunate number of priests and bishops are more concerned with stroking their own … egos … than defending the truths of the faith. [Personally, I believe this obsession with body building is rooted in a subconscious (in some cases, conscious) homoerotic misinterpretation of the words of Frassati.]
A fine example of this unfortunate epidemic is Bishop Robert Barron.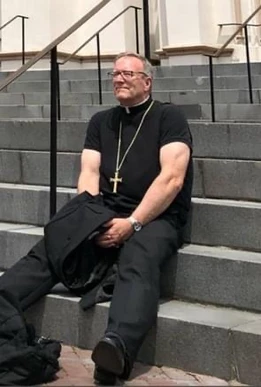 Last week, I came across an outstanding observation of Bishop Barron. While some might dismiss it as "tabloid," the article raises legitimate concerns. I hope you'll click the link and read it for yourself.
I offer the following observation: People were rightly appalled at the behavior of Mr. Theodore McCarrick. (CNA refers to him as the "former Cardinal," I won't give him that dignity.) While most everybody was disgusted by "Uncle Teddy," it seems many fail to see the red flags indicating that he is only one of numerous clerics who have desecrated the Church. When he was rector of the Mundelein Seminary, Barron recruited a bright-eyed young body builder to instruct seminarians on building a sculpted physique. That individual is now a prominent member of Barron's staff. If this type of behavior doesn't give you pause and make you reflect on the horrific accounts, we learned of McCarrick than I fear you are blinded by the overwhelming light of Bishop Barron's tremendous ego.
What you may not know is that Bishop Barron operates as a sort of mobster boss. He has the money – and apparently the muscle to destroy anybody who stands in his way or offers even the smallest criticism of him. Perhaps that's why there is not one among his brother bishops who would dare to show some real muscle and call Barron out for his inappropriate obsession with Atlas-esque muscle men.
It would serve the bishops well to remember that they approached Mr. McCarrick's actions in the same way.
Speaking of a lack of muscle when it comes to calling out nonsense, let's revisit Candlemas:
"The path of fraternity … is the anchor of salvation for humanity. … Neither is there salvation in any other. For there is no other name under heaven given to men, whereby we must be saved." (Acts 4:12)
That's a quote from our very own Holy Father. I would really like to know where this man gets his biblical theology sources because it's certainly not from any of the writings I've studied. The "fraternity" he was speaking of was regarding his enthusiastic support of the ecumenical endeavor known as the Abrahamic Family House initiative. Look it up. Then read the writings of Blessed Anne Catherine Emmerich. You likely won't sleep well after this homework assignment.
While not necessarily heresy, it's another example of the questionable remarks we've heard from the Pope since the beginning of his pontificate. Aside from group affectionately known as the "Dubia Cardinals" where are the men of muscle? Why is it that an average guy with the courage of Athanasius and Jerome is the lone voice in calling out these blatantly stupid remarks?
Pope Francis constantly speaks of the so-called climate crisis. Truth be told; however, his remarks prove time and again that he is a gas bag that poses a bigger threat to the ozone than cow farts.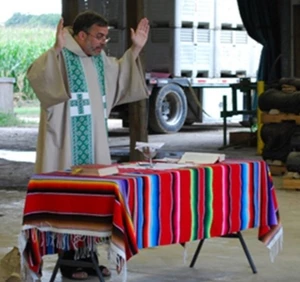 While we're on the subject of blatant stupidity, let's take a look at Bishop John Stowe of Lexington. He feels right at home with the LGBTQRSTUV community, and he was among the first to voice his opposition to the USCCB's (weak) document on the Eucharist – but if you're a member of the clergy who prefers to wear a biretta, you'd best steer clear of his diocese.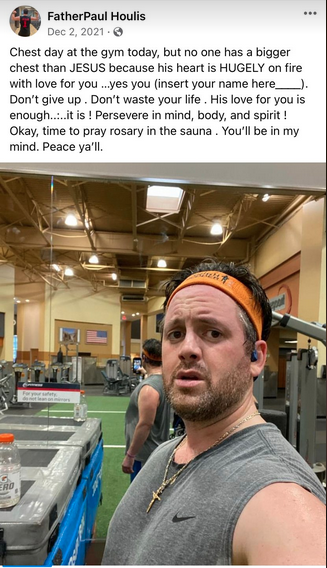 Stowe issued a "decree" last week reassuring the faithful of his commitment to being a company man to the agenda of the Holy See. It's the same garbage we've seen from other bishops recently that, quite frankly, isn't worth the paper on which it is printed. Once again, I raise the question: is there any muscle among the priests and bishops to call out the thoroughly unbecoming behavior Stowe has exhibited since his enthronement?
For priests and bishops, it's time to accept a reality: true muscle is not demonstrated by posting photos of themselves working out in the gym or flexing their biceps on social media.
Rather, true muscle is demonstrated by offering fraternal correction to their brothers who have allowed ego to blind them from the true essence of their priestly vocation.
No offense, Father, but I'd rather you refrain from remembering me in your "sauna rosary,"
Sadly, there are few among the shepherds who are truly ready to flex such a muscle in order to protect the flock.